Othopedic Arm Sling
Arm Sling(enhanced type) Instructions
Product Name: Arm Sling(enhanced type) Model: KDZJ-ZB-004
Specification:
Specification Forearm circumference /cm
Universal 27-40
Product Composition: It is composed of textile fabric, buckle, belt and thread gluing etc.
Functions:
1. Effectively immobilize elbow in function position, and reduce load.
2. Harness across the unilateral trapezius to avoid neck bearing and relieve fatigue.
3. Choose waist belt as required, fix or release shoulder activity.
4. Comfortable and breathable fabric, easy to operate.
Scope of application:
1. Emergency external immobilization for upper lims and soft tissue injuries, arm dislocation or arm dislocation from manual restoration.
2. External immobilization in conservative treatment for forearm and elbow injuries.
3. External immobilization for arm semi-dislocation caused by hemiplegia from restoration.
4. External fixation for immobilization of orthopedic casting tape or plaster.
Usage method:
1. Use it under the instruction of doctors.
2. Select adapted brace to operate based on clinical indications.
3. Put the product under your wounded part in the trapezoid bag, adjust the support area till both the wrist and elbow are included.
4. Put the strap through the buckle and thread gluing in front your chest, adjust the length of shoulder strap to needed position.
5. Stick the belt near elbow to the bag tight.
6. Use the ring buckle and thread gluing, adjust the length of waist belt to make it pass the front of trapezoid bag, stick the end of the belt near the wrist part of the bag, then enhance fixation effect.
Cautions:
1. Use it under the instruction of doctors.
2. Soft material can be washed by wet cloth and soft detergent, keep away from sour corrosion.
Storage condition: The storage temperature should be in 15-30 ºC, humidity below 60%, and storage in a cool place.
Duration: 5 years.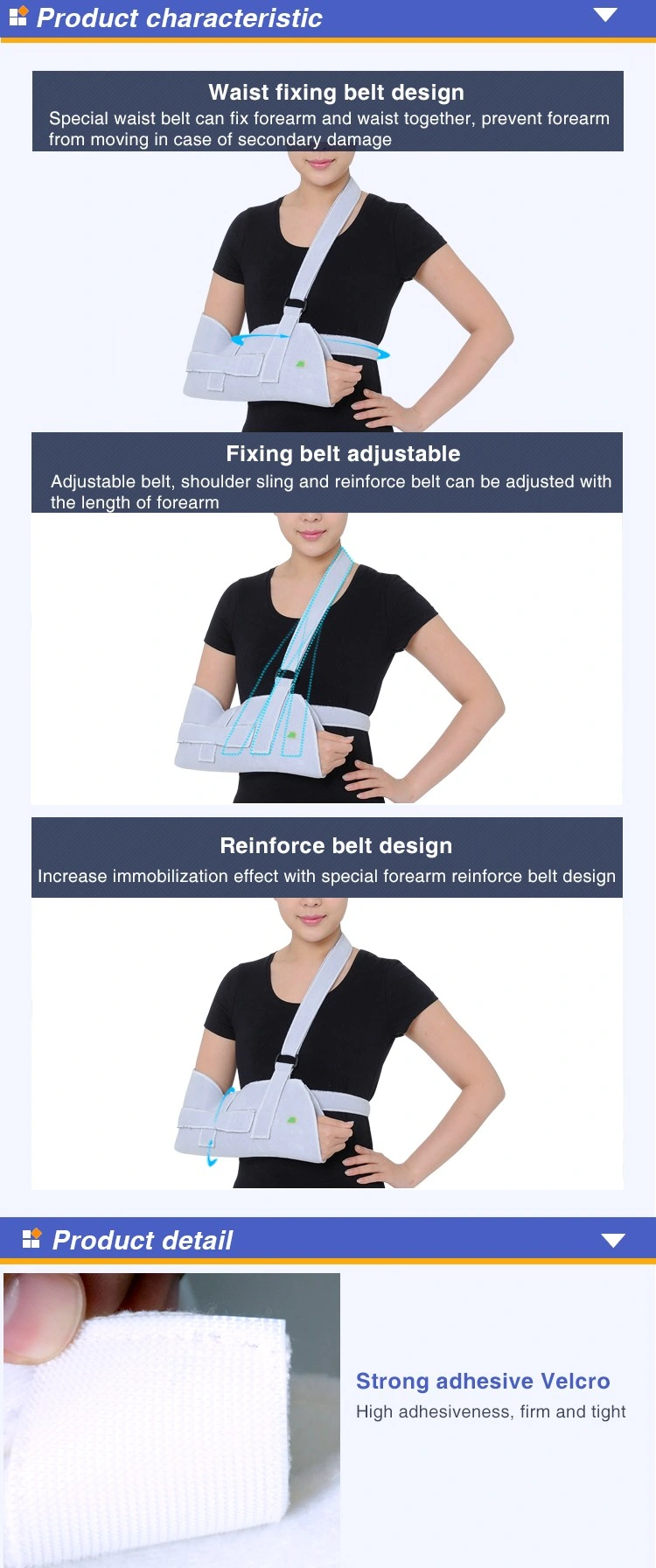 Packing & Delivery
One piece each small carton
All the international express and transportation is available with best price and service.
Shipping ways: DHL, UPS, FEDEX, EMS, TNT, AIR, SEA
Beijing Jinwei Kangda Medical Instrument Ltd. is a professional manufacturer of medical polymer orthopedic instruments and sports protective equipments which specialize in these products' research and development, production, sales at home and abroad.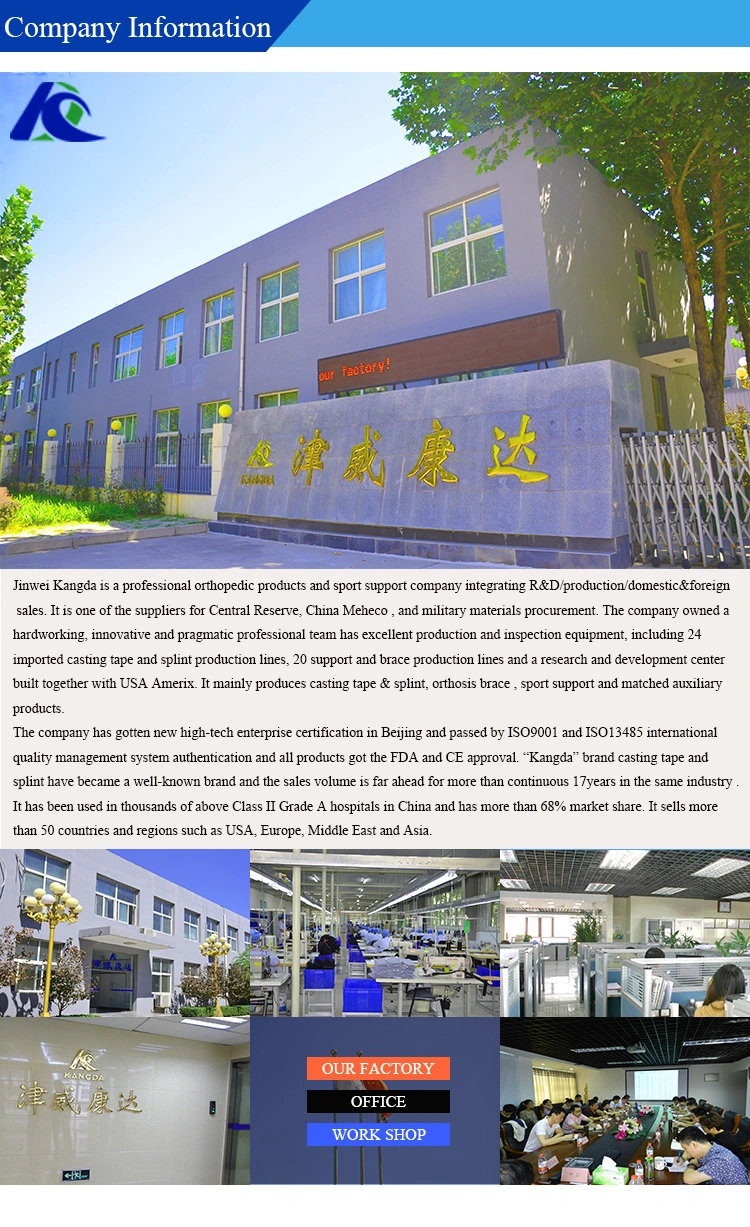 We have 24 imported assembly lines and a research & development center cooperated with American company, and produce more than 20 kinds of medical therapy and rehabilitation equipments like medical polymer orthopedic casting tape and splint,orthopedic brace, sports protective equipment and rehabilitation equipment and so on.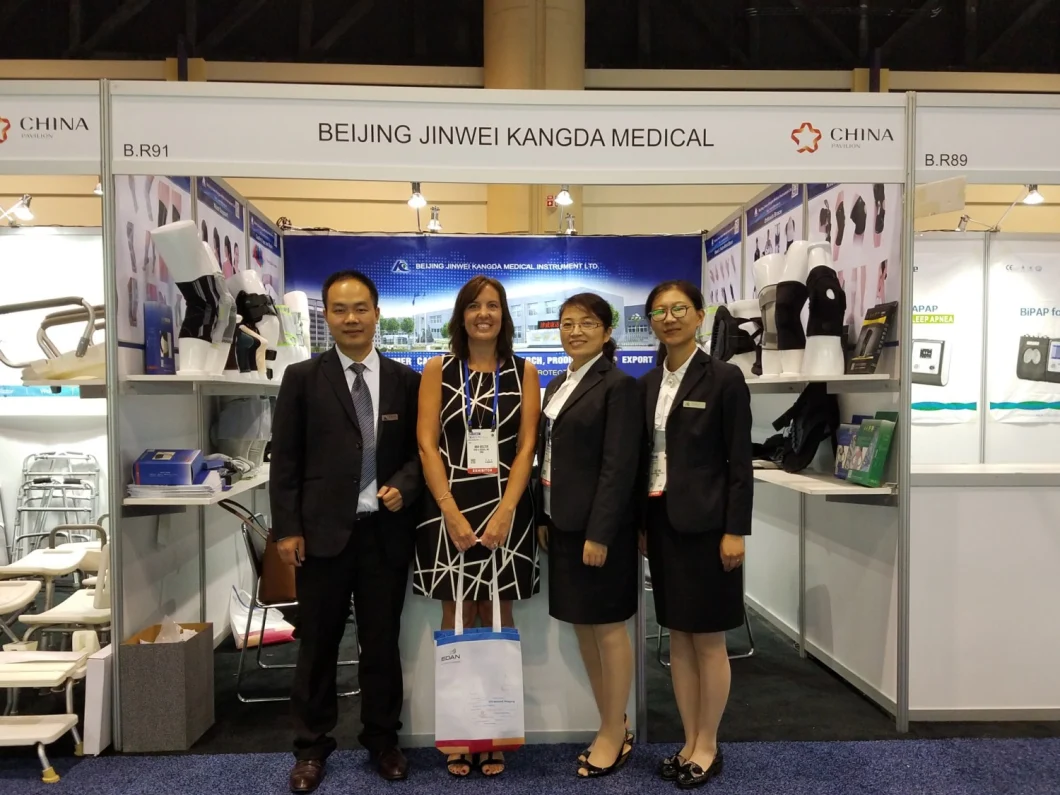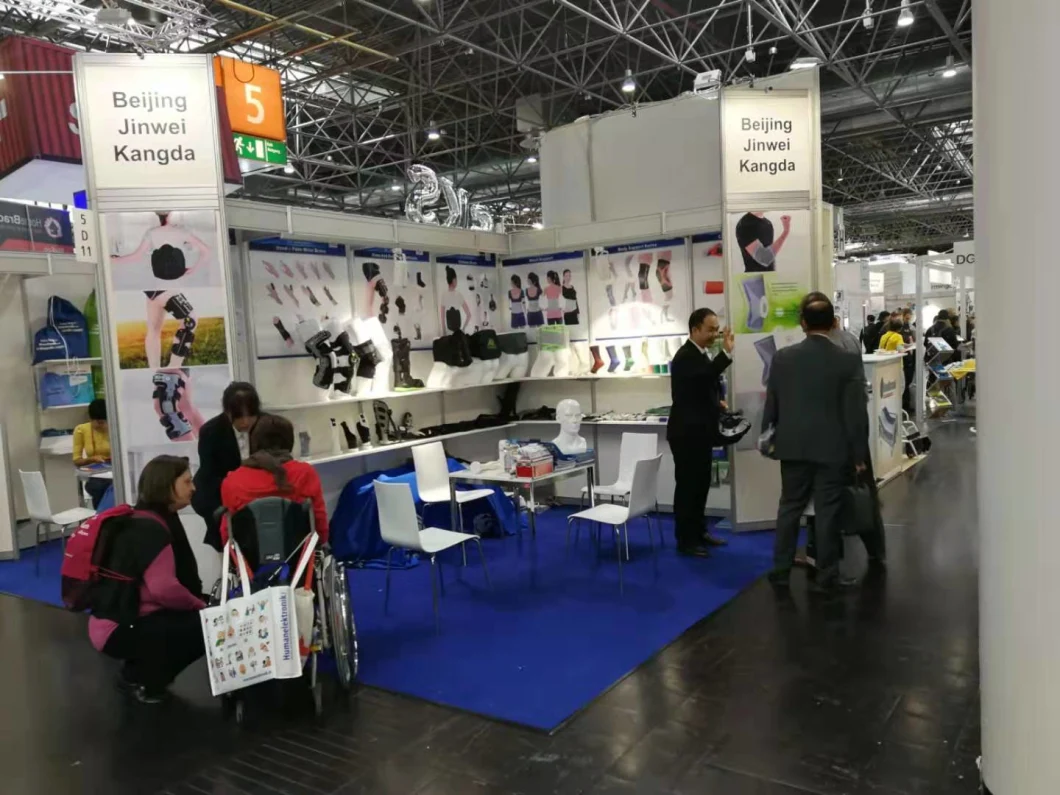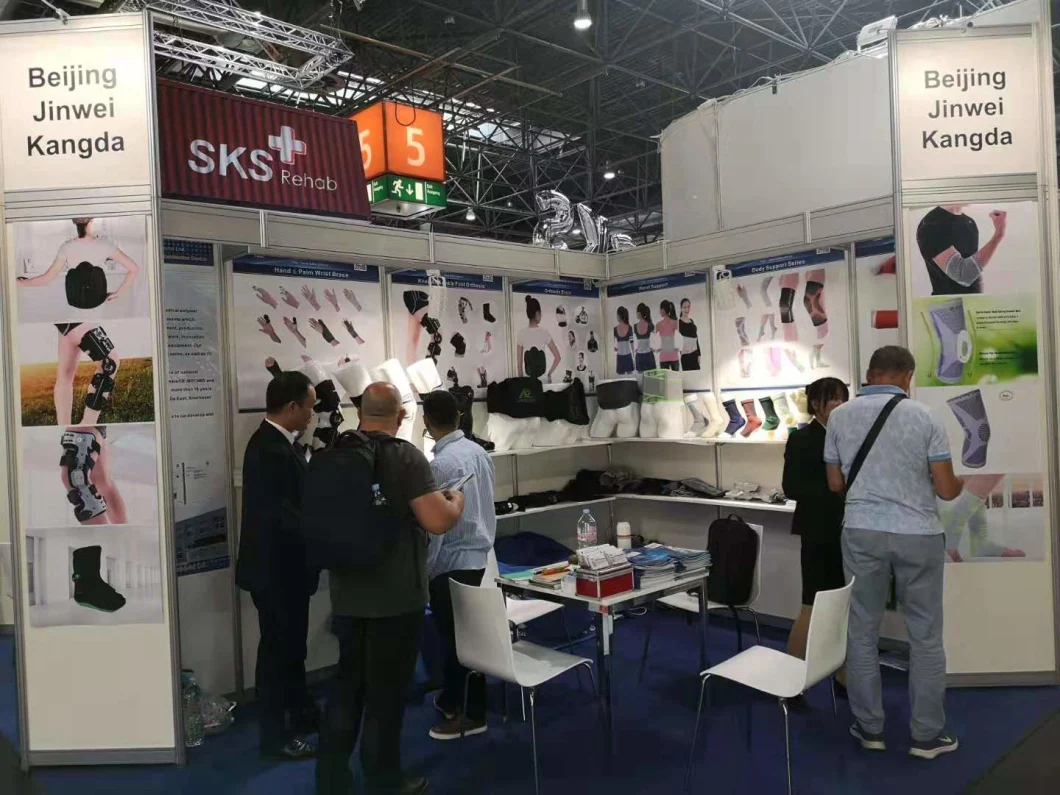 Our corporation has qualified the International Quality System Certification of ISO9001:2008 and ISO13485: 2003; our products have been obtained the certificate of American FDA and European CE.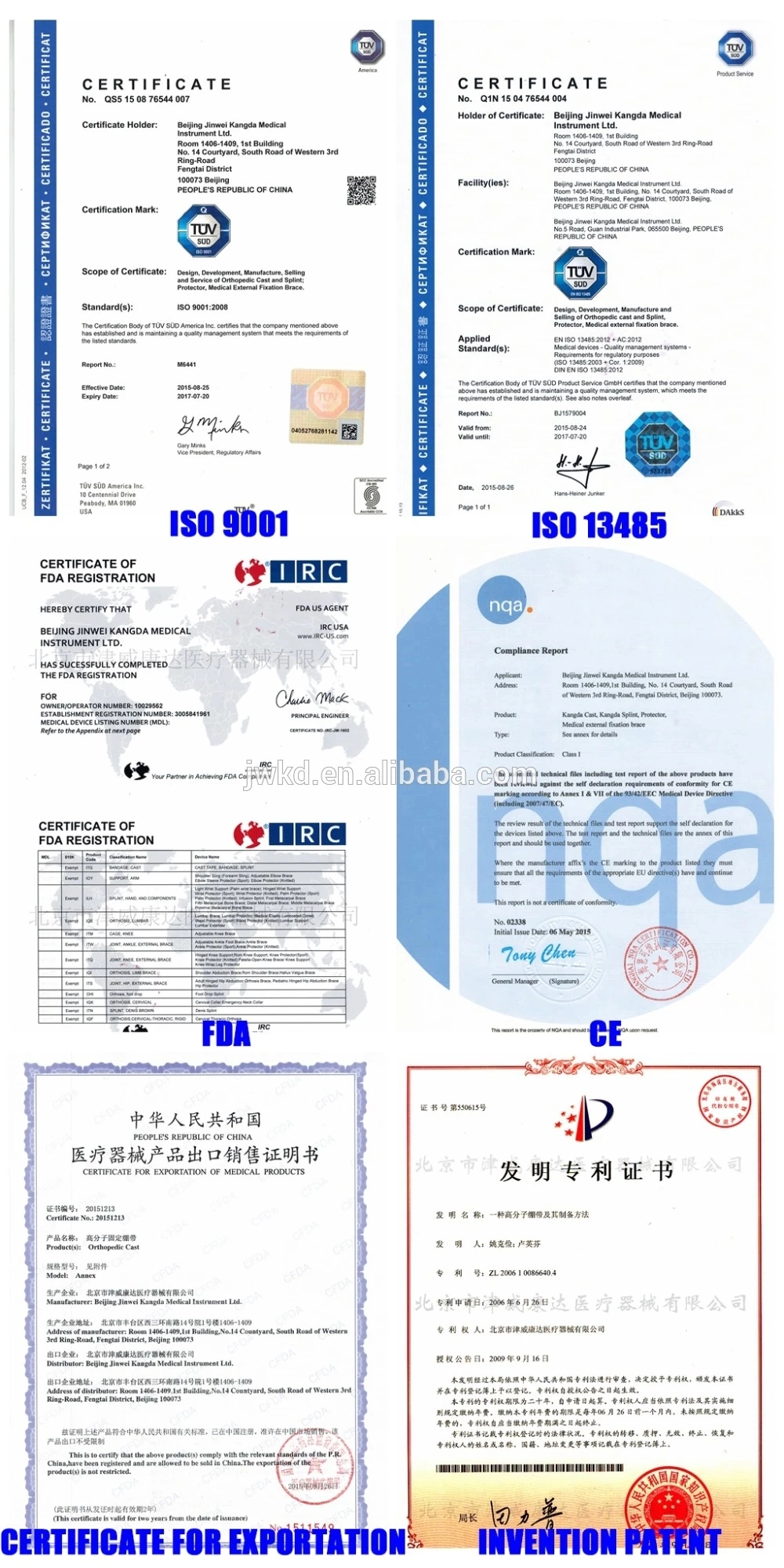 Why choose JINWEI KANGDA?

A. Export department delicated since 2001.
B. Return policy.
C. 3 years warranty period.
D. High quality with authorized certification, CE, ISO, FDA etc.
E. Professional engineer team with best technique support.
F. 24 hours on line service, response rate is up to 100%.
The products are exported to USA, Europe, the Middle East, Southeast Asia and more than 40 countries and region.There are 200 new customers in 2018 ( old customers not in).
No complains from customer,please find the good feedbacks on alibaba as follows:
[ TRUST YOU WILL LIKE OUR SERVICES, QUALITY AND PRICE ]

YOUR MONEY IS SAFE WITH US.