Thumb thermoplastic Splint replace Orthopedic Fracture Plaster Bandage
Low temperature thermoplastic (LTTP) sheets offer the ideal solution. These sheets are widely used to make custom splints and braces that partially or totally immobilize a body part.
Custom fitted splints and braces are formed from thin, flat, thermoplastic sheets. Once heated in hot water, these sheets become soft and pliable. Then, they are trimmed and molded to any part of the body for a perfect custom fit. Hook and loop straps hold the splint in place, and padding/liner materials increase patient comfort.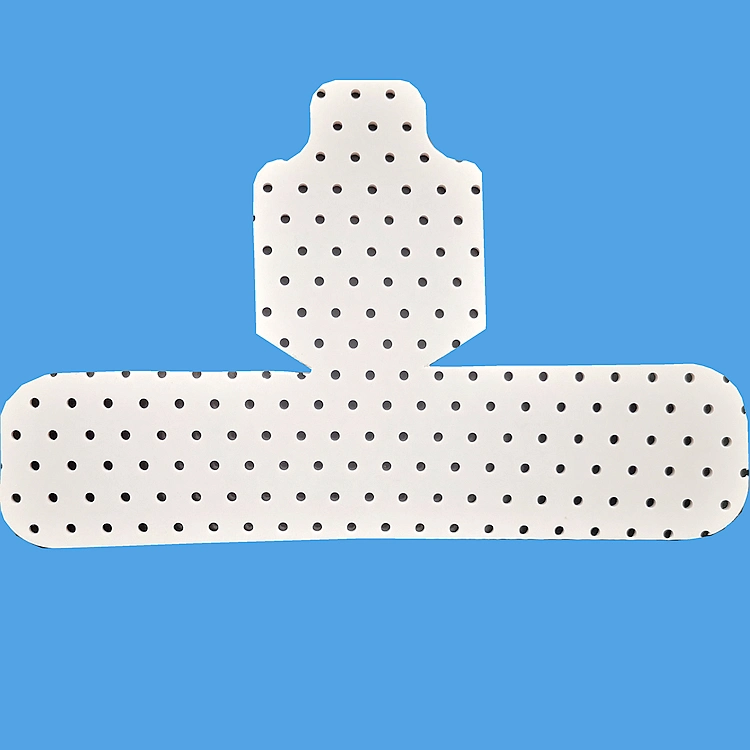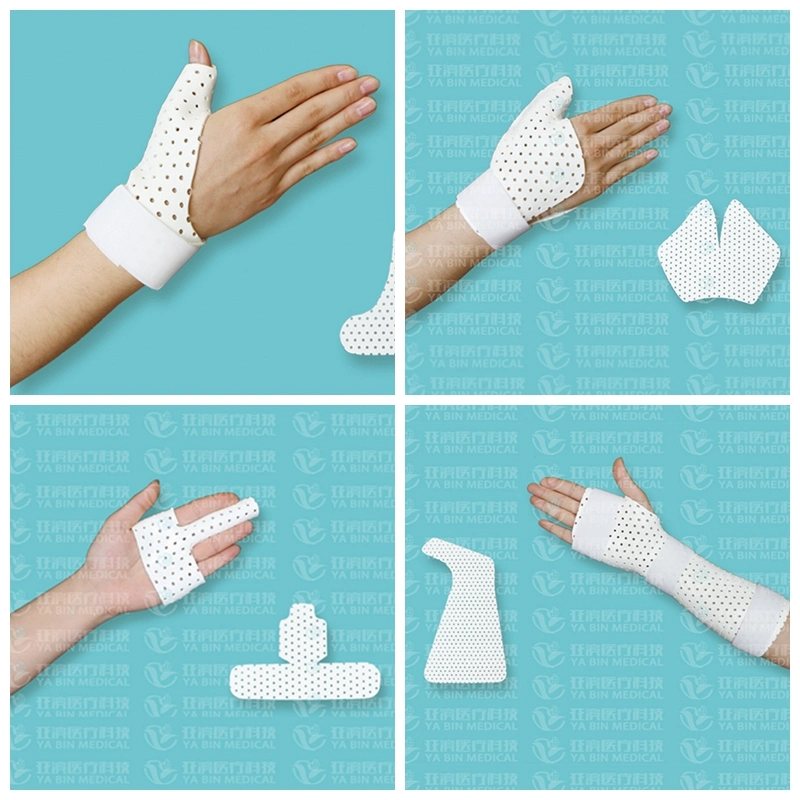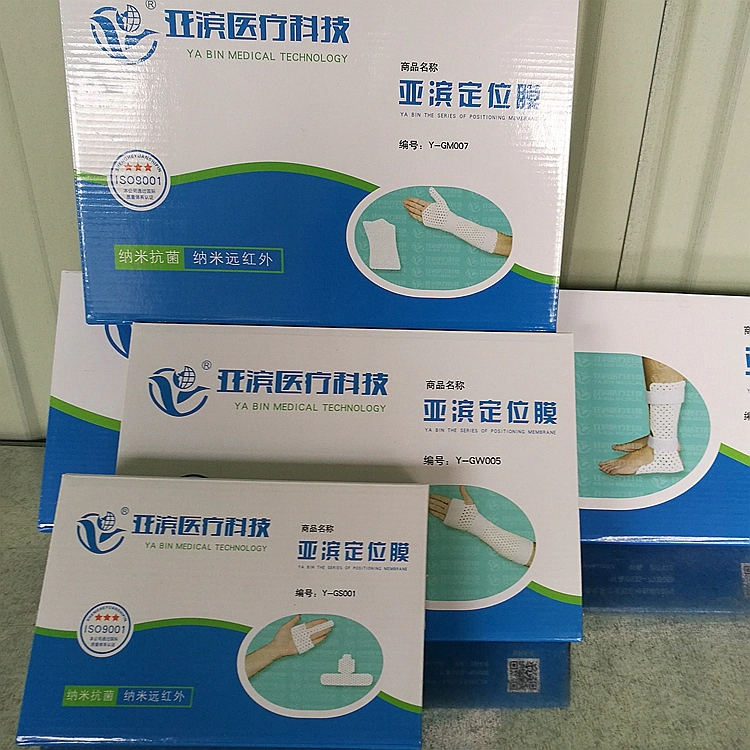 Application Field:
1. Orthopedics
2. Rehabilitation hospital
3. Burn department
4. Aesthetic and Reconstructive Plastic Surgery
5. ENT department
6. First Aid & Emergency

How to use?
1. Adjust the water bath to 75ºC, put the sheet into hot water for 2-3 minutes.
2. After the sheet turns to soft and pliable, put it on a soft cloth and dry it on.
3. Mould it according to the body part, hoop and loop straps be hold the splint in place, padding/liner materials increase patient comfort.
4. Keep the sheet for 10 minutes, it can be plastic well.
5. With a perfect memory, it can be remoulded more than 8 times.
Attention:
1. Adjust the water temperature to 65ºC-75 ºC , don't more than 80 ºC , if more than 80 ºC, it will make the splint contraction and deformation.
2. Be sure not to place the sheet in hot water for too long time. In general, 2-3 minutes should be enough to make it soften and activation.
3. Working surrounding. When the operation room temperature is more than 20ºC, it can be plastic within 1.5-3 minutes; When the room temperature drop to 10ºC, the plastic time is about 30-50 minutes.
4. For orthopedic splints,after activation, it can be stretched to 1.5 times as its original size. Excessive pulling could affect its reshaped resilience and damage its memory function.
5. How to restore a molding splint back to its factory settings? Just put it into the hot water with 65ºC-75 ºC, and then it will rebound automatically after 5 minutes.
6. Due to the characteristics of the material itself, in the activation process, it will occasionally occur small area of sticky. Please be sure not to pull randomly. When it leaves the water to solidify, it will automatically relieves adhesion.
7. Storage in room temperature is enough.
8. The products is Eco-friendly, put it outside in the yard with natural climate about 12 month, it will be degraded by itself .
Why choose us?
| | |
| --- | --- |
| Light weight, easy to carry | The weight is light, only 1/8 of plaster, wearing comfortable and neat appearance |
| Strong Plasticity | Easily shaped by patients' affected positions. Will not rebound after cooling |
| 100% of the memory function | If it can't fit to the patients well, put it back into the hot water and reshaped. It will be quickly recovered to original and can reuse about 6-8 times and realize cost saving. |
| Good breath ability. | The holes on the materials surface can keep good transmittance, avoid necrosis of the affected infection. |
| Practical | It has the features of toxic-free tasteless, easy cleaning in cold water after shaped, can wear it during bath, can be penetrated by X-ray, no need to take off when do the X-ray |
| Eco-friendly | After 1 year, it can be degraded by itself in natural conditions, no pollution to environment . |
| Good tensile | It has good tensile, can stretch in all direction with 1-1.5 times |
packing: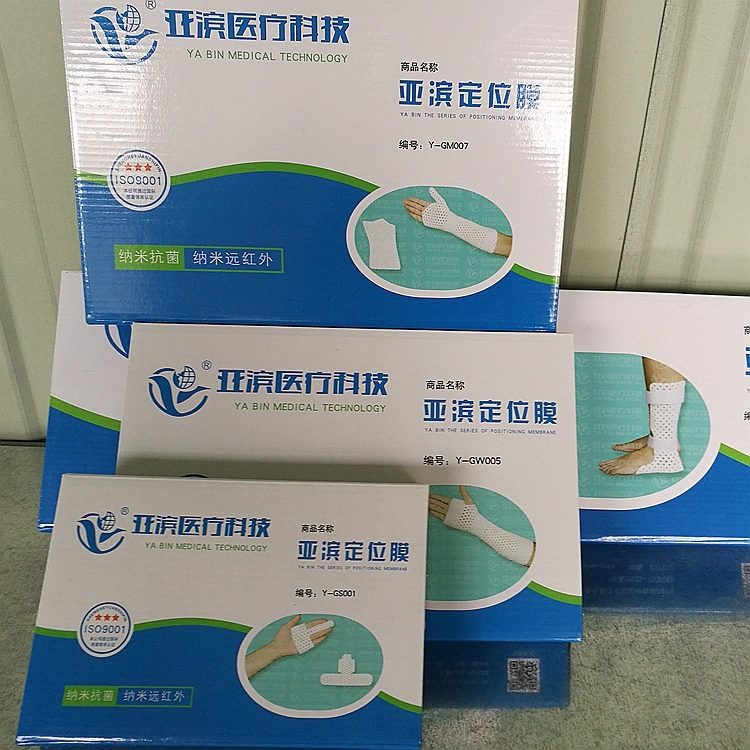 Company information: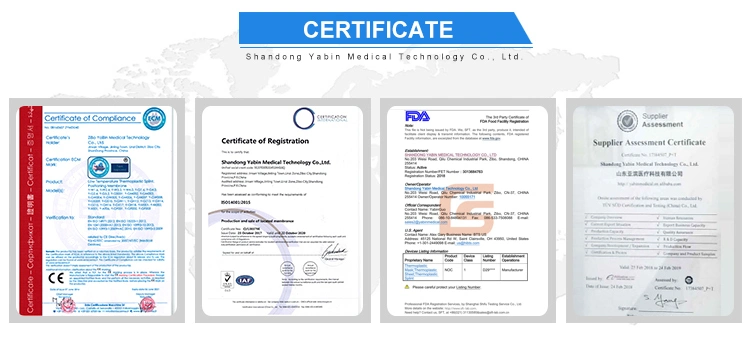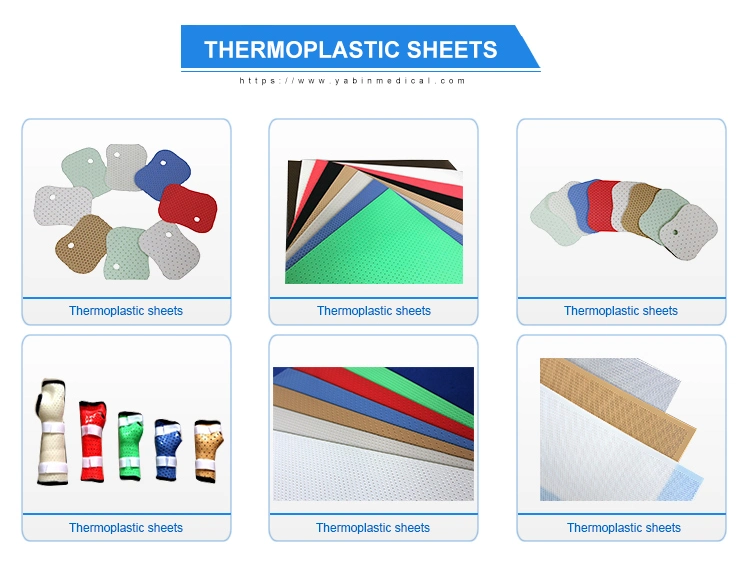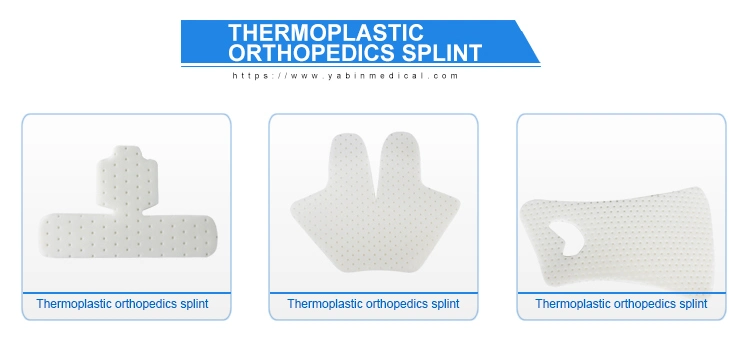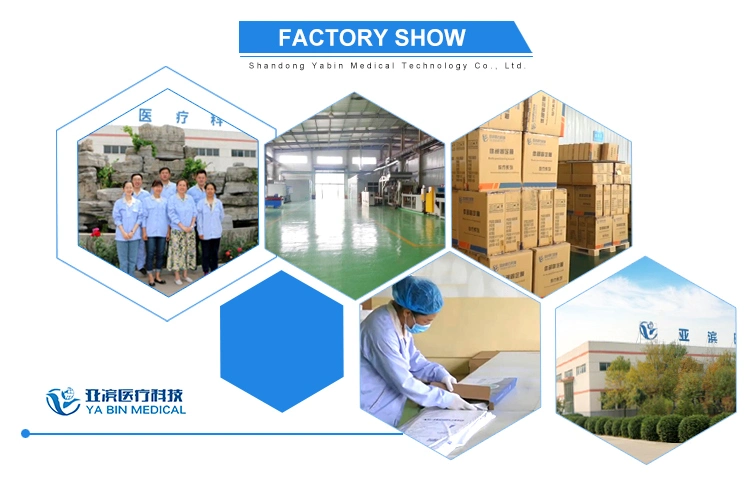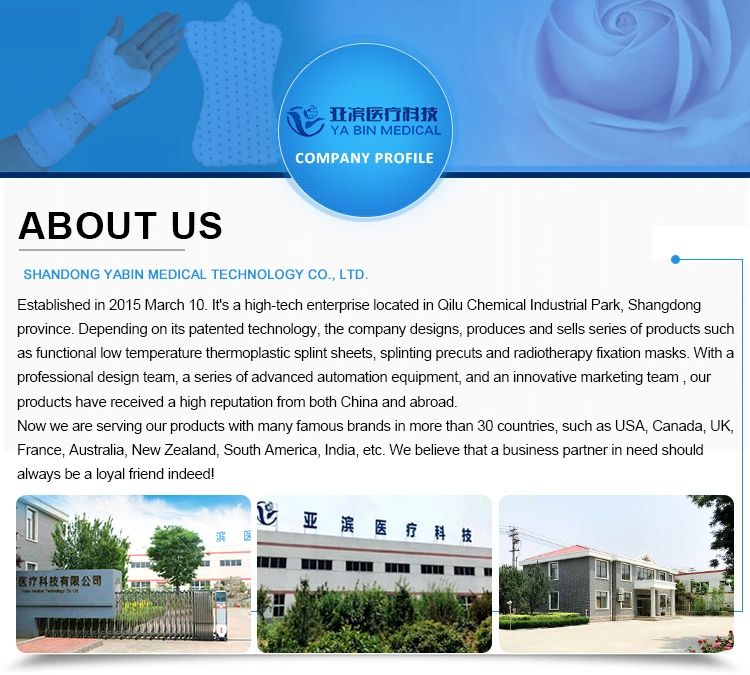 Clients feedback: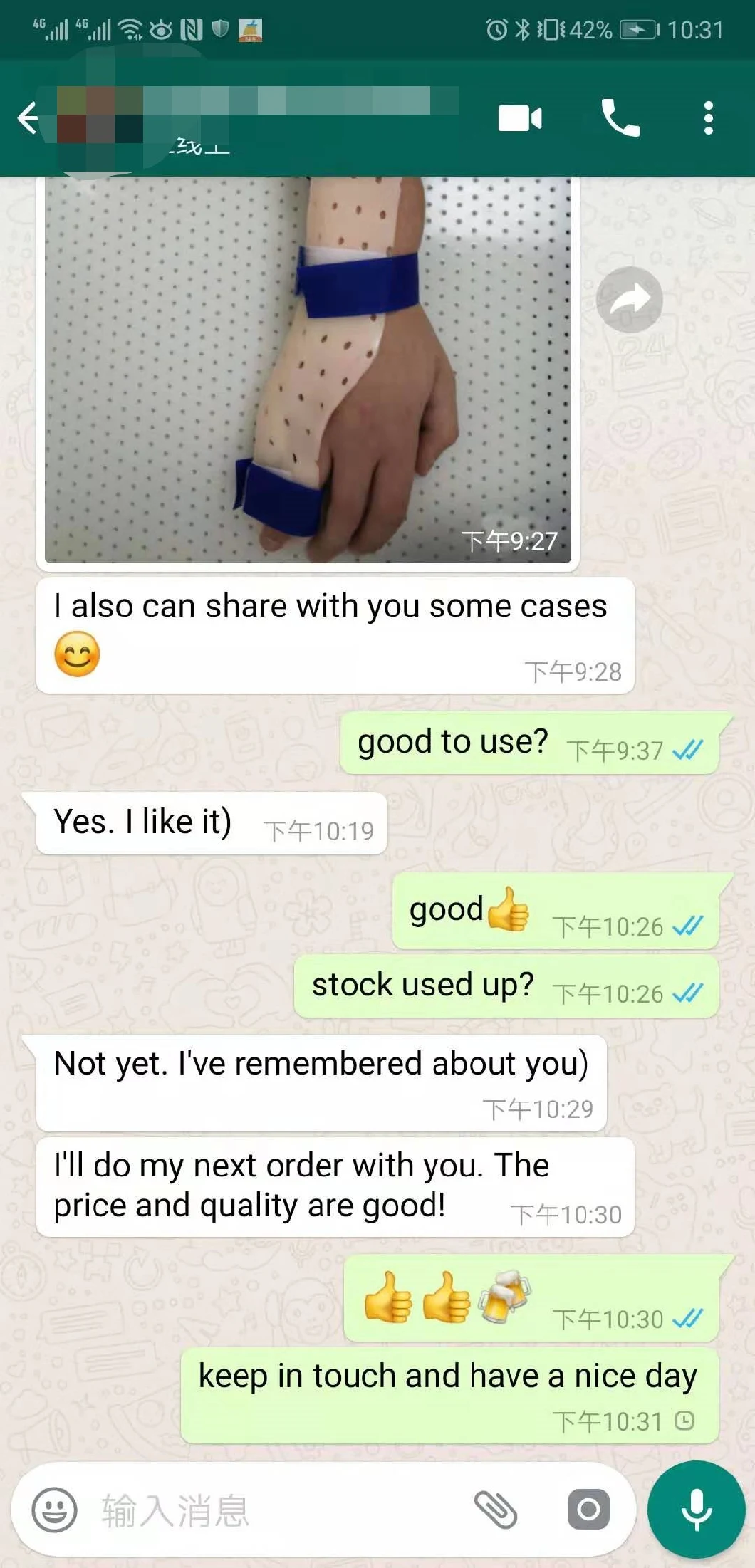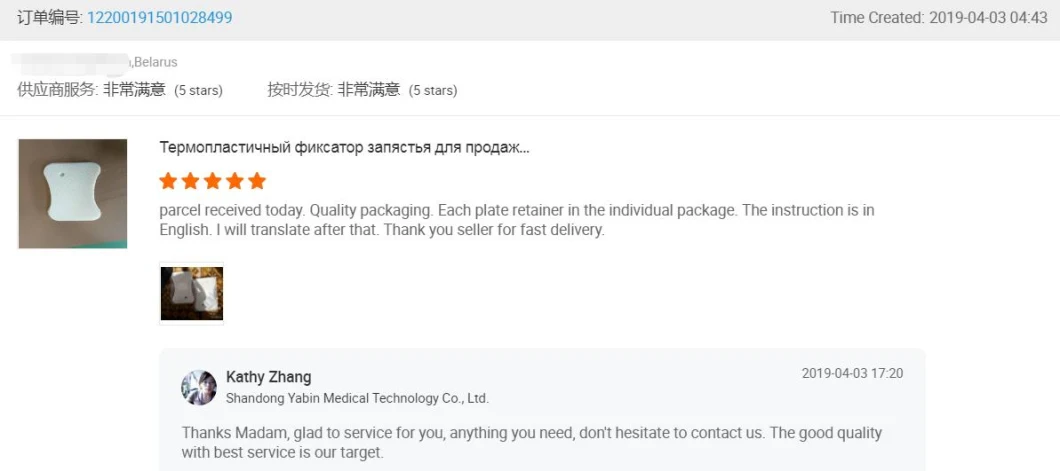 FAQ:
Q: Are you a manufacture?
Answer: Yes we are. Welcome to visit us.

Q: Are you qualify with certifications?
Answer : Yes, FDA CE ISO etc.
Q: Can you provide samples?
Answer: Yes of course. Welcome to ask. Postage is required.
Q: How do you ensure your quality?
Answer: As a manufacture from raw materials to finished products are under examed tested and monitored.
Q: What's your minimum order?
Answer: No minimum order is required. Obviously your price will be better and shipping cost will be reduced by larger orders.

Q: What is your delivery time?
Answer: If your order in stock we will send out strict after payment received. Normally it takes 1-4 weeks depends on where you are.
Q: Where do you ship?
Answer: Most of counties in the world please confirm with us.
Q: Can I become your agency?
Answer: Yes, welcome to be our sales agency, for more details, we can discuss.
Thank you very much for watching. Any questions or more details please do not hesitate to contact us.